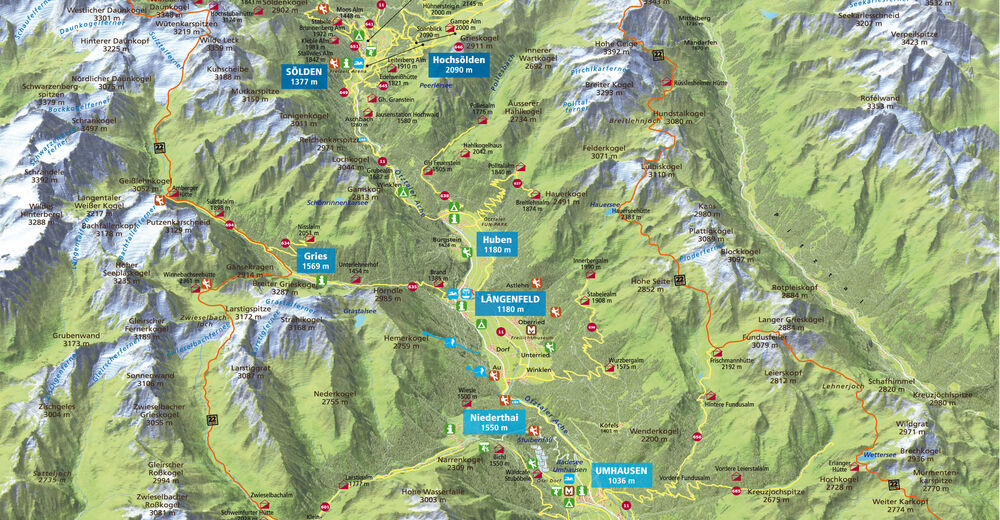 Ötztal - a valley of superlatives!
According to an old legend the people from Ötztal queued twice when god distributed scenic beauty. There is no real other explanation why else so many of Tirol's natural superlatives and wonders should be located just in this valley whick extends from the upper Inntal 65 kilometers towards the south.
Ötztal Highlights
Inwardly maybe a little jealous, the rest of Tirol accepts that the country's highest mountain, the Wildspitze, is located in the Ötztal Alps. And, of course, the eastern Alps' largest glacier ski area is located in the Ötzal Alps. And where is Austria's highest parish village? It's located in Ötztal and its name is Obergurgl. Where does Stuibenfall, Tirol's highest waterfall, cascade down? In the Ötztal.
Where is Lake Piburger, an especially beautiful natural gem and one of Tirol's warmest swimming lakes? In the Ötztal. More highlights from the Ötztal: the Ötztal Alps boast some 250 three thousand meter high mountains, 60 of which are higher than 3400 meters. Nowhere else in the Alps you will find a greater number of over 3000 meter high mountains in such a small area. With exactly 86 glaciers the Ötztal Alps furthermore have the largest ice-covererd area ot the East Alps.
Ötztal - a paradise for hikers
If you believe that the Ötztal Alps are only for die-hard mountaineers and ice freaks you couldn't be more wrong. The region boasts an almost unlimited number of hikes and walks for all ability levels (all in all some 1300 kilometers of signposted trails): through green pasturelands, forested mountainsides or scenic marshlands, along the burbling Ötztal brook, through wild landslide areas with their unique flora, and romantic side valleys which extend high up into the mountains. In short: a true paradise for hikers!
Ötztal's diversity
Whether you wish to relax or be active - the Ötztal offers something for all tastes, interests and ages. What makes the Ötztal so attractive is not only its great diversity but also that it caters for a wide selection of budgets. Depending on your preferences you can find peaceful and secluded mountain villages as well as lively and vibrant winter sports resorts. The valley offers a large range of lodgings catering to all tastes and pocketbooks and includes everything from inexpensive private accommodations to deluxe hotels.
Numerous parties and traditional events ensure that boredom is virtually unknown in the home of "Ötzi", the legendary iceman.
Ötztal's holiday resorts
extend from the entrance of the valley at 800 meters above sea level to the high alpine source of the Ötztal Ache. Each town has its own special flair and character. But as a general rule you could day that: from the start to the center of the valley the towns are family-friendly with a focus on moderate sports; the higher you get the more pronounced gets the sports and lifestyle scene.
---
---
Fritidsråd Ötztal
---
Kontakt Ötztal

Ötztal Tourismus
Gemeindestraße 4, A-6450 Sölden
Telefon

Faks

Hjemmeside
E-Mail
Spørsmål og Bestilling av prospekt Overnattinger
Fjellbaner Sommeråpning
Vent
16.06.2023 - 24.09.2023 (2 Heiser)
Oetz / Hochoetz
04.06.2023 - 22.10.2023 (1 Heis)
Sölden
08.06.2023 - 03.10.2023 (7 Heiser)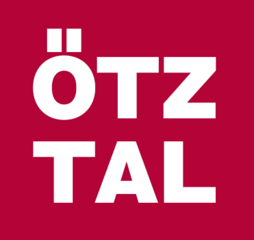 Overnattinger Ötztal
401 Hoteller, Ferieboliger...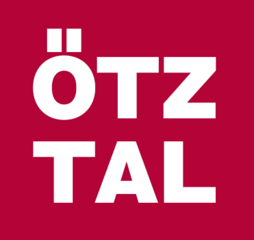 Leverandør av sportsutstyr Ötztal
Web-kameraer