Welcome to Ilmenau: a university town with Goethe associations
"I was always happy to spend time here, and still am.
Me thinks the reason lies in the harmony that is struck here ..."
(Goethe wrote to Schiller on 29 August, 1795, from Ilmenau)
The Goethe and university town of Ilmenau - population approx. 30,000 - is situated in the foothills of the Thuringian Forest. Surrounded by the mountains of the Thuringian Forest in Germany's "green heart", it makes an excellent base for hiking. It is also the start of the 20-km Goethe trail following in the footsteps of the great writer and poet.
Ilmenau offers plenty of variety for everyone - cultural enthusiasts, nature-lovers, sporty types and people who enjoy hiking and biking.
From Goethe to the MP3 player
Many things distinguish Ilmenau with its population of almost 30,000 - the natural beauty of the Thüringer Wald (the section of the wooded mid-German hills against which it lies) an old and attractive town centre, the impressive campus of Ilmenau University of Technology, renowned for research, and the associations with the town's most famous visitor, Goethe.
You can steep yourself in Ilmenau's lively history and get to know this place through Goethe's eyes. Go on a tour of discovery through the historic heart of the town, stroll along promenades dating back to Ilmenau's heyday as a Mecca for those in search of a spa with cold water therapy. And do you like to go up to the heights? If so, come and sample the restfulness and breathtaking views of the Thüringer Wald and of the town and its university campus alongside the "Great Pond" (Großer Teich), all to be seen from our very own hill, 861 m.
Ilmenau is an ideal centre from which to go out on thought-provoking long-distance as well as circular walks. The former can include the Rennsteig which is close by and a major walking route; the latter take in the local communities and parts of the Thüringer Wald. Another long route, 20 km, is the Quality Path under the "Wanderbares Deutschland" scheme which goes by the name of Goethewanderweg and links the points between Ilmenau and Stützerbach where Goethe spent time. This instructive path is highly important in the scheme's 370 km network of walking routes. It takes in the Kickelhahn with the wooden shelter made famous by Goethe, the historic hunting range and the look-out tower. Our other Quality Path, from Goethe to Bach (Von Goethe zu Bach), leads from Ilmenau to Arnstadt.
---
Fritidsråd Ilmenau
---
Kontakt Ilmenau
Ilmenau-Information
Am Markt 1, D-98693 Ilmenau
Telefon

Hjemmeside
E-Mail
Spørsmål og Bestilling av prospekt Overnattinger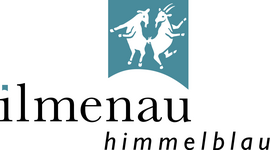 Overnattinger Ilmenau
1 Hoteller, Ferieboliger...
Web-kameraer
De mest populære regionene