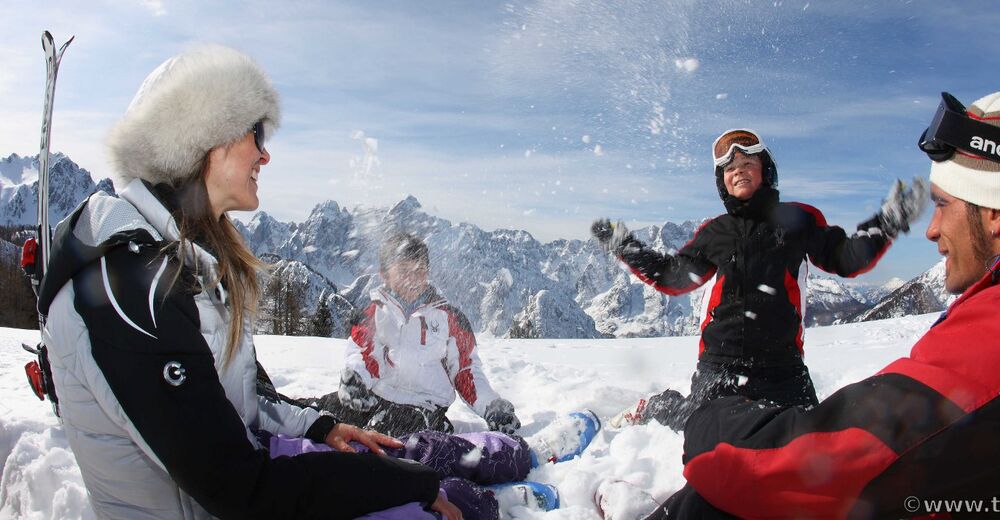 Choose Friuli Venezia Giulia's mountains for an unforgettable holiday!
The Friulian Dolomites, the Julian Alps and Pre-Alps are the setting of extremely charming places. Discover Friuli Venezia Giulia's mountains: you will be able to choose from various activities in the wonderful districts of Carnia, Tarvisio and Piancavallo.
Both in winter and in summer, Friuli Venezia Giulia will provide you with many activities for spending your leisure time.
In winter, choose from the five ski areas where you can go skiing, snowboarding and cross-country skiing. Try dog sledding: learn how to drive a sled drawn by dogs, an unforgettable adventure in unspoilt nature.
Or have a unique experience: sleep in an igloo! In Piancavallo 20 ice huts are waiting for you in the "I spirit Igloo Village".
And in summer, come mountain climbing surrounded by peace and silence, choosing itineraries with different levels of difficulty. Wonderful valleys to be crossed on foot, on a mountain bike or on a horse looking for malghe (shepherd's huts) where to stop for refreshment. And if you have children, choose to spend a great day at one of the 4 adventure parks, doing tarzaning from trees in the middle of the jungle.
You will be able to practice many other sports to have a unique experience in Friuli Venezia Giulia's mountains.
---
Fritidsråd Friaul Julisch Venetien
---
Kontakt Friaul Julisch Venetien

Agenzia Turismo Friuli Venezia Giulia
Via Carso 3, I-33052 Cervignano del Friuli
Telefon

Faks

Hjemmeside
E-Mail
Spørsmål og Bestilling av prospekt Overnattinger

Overnattinger Friaul Julisch Venetien
1 Hoteller, Ferieboliger...
Tilbud og Pakker Friaul Julisch Venetien
Web-kameraer
De mest populære regionene