Hotel Miramonti
39036 Abtei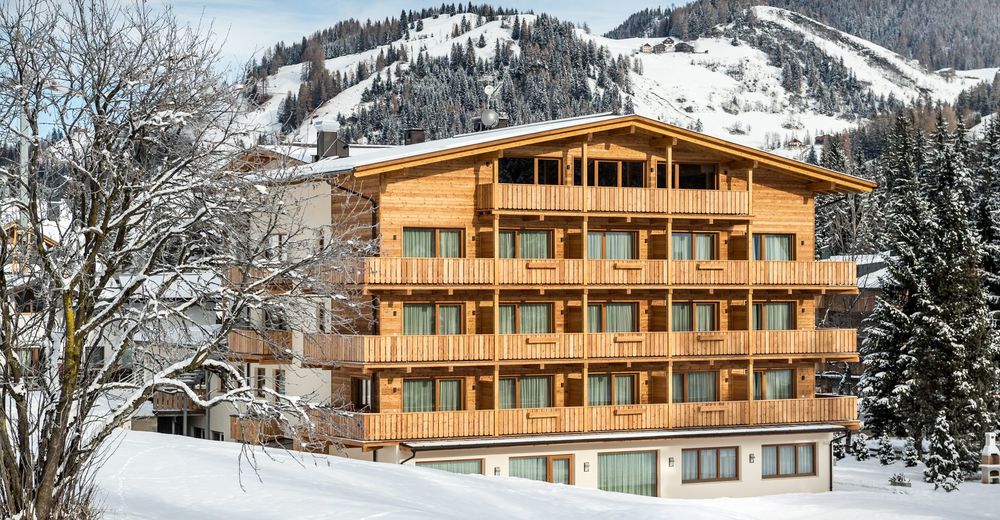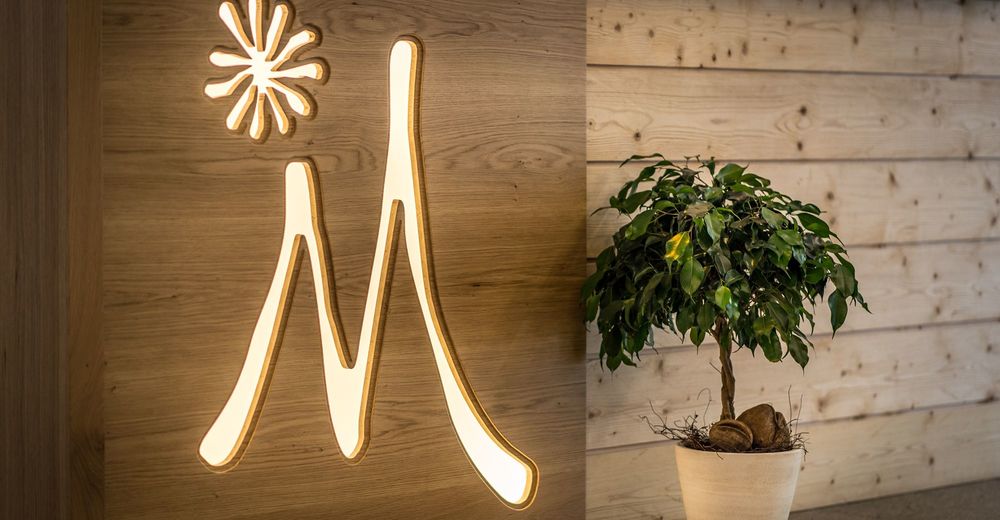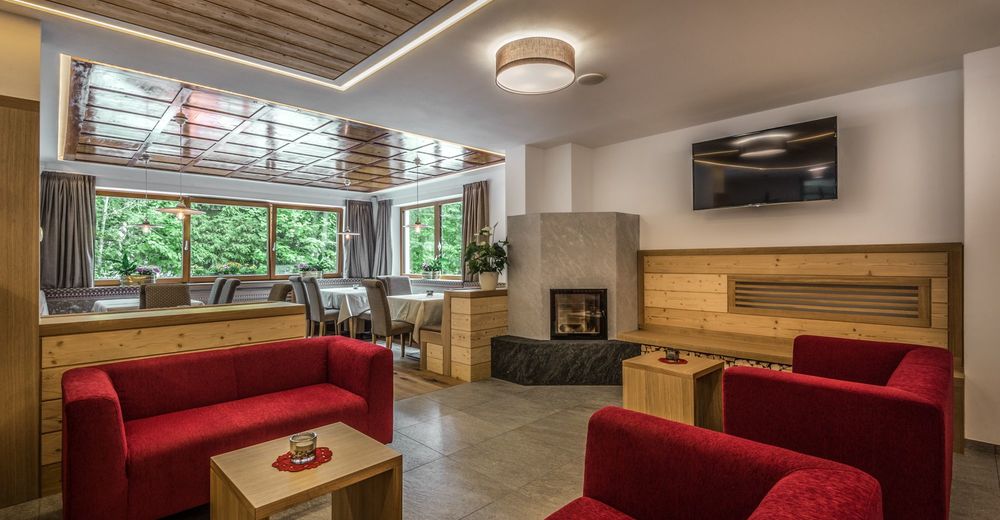 Hotel Miramonti - your holiday in the Dolomites
Welcome to the Hotel Miramonti!
Surrounded by the spectacular scenery of the Dolomite mountains, in Alta Badia, our hotel is the ideal starting-point for intense outdoor sport activities, regenerating walks in nature, and trekking and climbing in the mountains, unfogettable skidays in the famous skiarea of Dolomiti-Superski.
Our hotel , renovated completely, it shows up now as a union between modern comfort and alpine tradition to let you enjoy an unforgettable holiday in the Dolomites.
Free Wi-Fi access is available throughout the hotel.
For relaxing after skiing or trekking in our mountains our wellness center "Enrosadira".
We put great effort in delighting our guests with a wide selection of local ladin, italian and international dishes.
The fascinating beauty of the mountains and the experience of our family-run hotel with a long tradition of sincere hospitality and family atmospere will contribute to make your vacation memorable and we are glad to welcome you in our completely new hotel with our saying: feel at home far away from home!
The Irsara-Adang Family
Allgemeine Verfügbarkeit
Hotel Miramonti
på oppfordring
tilgjengelig
ikke tilgjengelig
For Sylvester the last possible arrival day is 26.12.20 with a min. stay of 7 nights.
Tilbud Sommer
Hotel Miramonti
Priser
Double room Premium
(Doppelzimmer)
pro Person / pro Nacht
| Halvpensjon
Double room Comfort
(Doppelzimmer)
pro Person / pro Nacht
| Halvpensjon
Double room Panorama
(Doppelzimmer)
pro Person / pro Nacht
| Halvpensjon
Family Room
(Doppelzimmer)
pro Person / pro Nacht
| Halvpensjon
Double room Superior
(Doppelzimmer)
pro Person / pro Nacht
| Halvpensjon
Double room Premium
(Doppelzimmer)
pro Person / pro Nacht
| Halvpensjon
Double room Comfort
(Doppelzimmer)
pro Person / pro Nacht
| Halvpensjon
Double room Panorama
(Doppelzimmer)
pro Person / pro Nacht
| Halvpensjon
Family Room
(Doppelzimmer)
pro Person / pro Nacht
| Halvpensjon
Double room Superior
(Doppelzimmer)
pro Person / pro Nacht
| Halvpensjon
Double room Premium
(Doppelzimmer)
pro Person / pro Nacht
| Halvpensjon
Double room Comfort
(Doppelzimmer)
pro Person / pro Nacht
| Halvpensjon
Double room Panorama
(Doppelzimmer)
pro Person / pro Nacht
| Halvpensjon
Family Room
(Doppelzimmer)
pro Person / pro Nacht
| Halvpensjon
Double room Superior
(Doppelzimmer)
pro Person / pro Nacht
| Halvpensjon
Double room Premium
(Doppelzimmer)
pro Person / pro Nacht
| Halvpensjon
Double room Comfort
(Doppelzimmer)
pro Person / pro Nacht
| Halvpensjon
Double room Panorama
(Doppelzimmer)
pro Person / pro Nacht
| Halvpensjon
Family Room
(Doppelzimmer)
pro Person / pro Nacht
| Halvpensjon
Double room Superior
(Doppelzimmer)
pro Person / pro Nacht
| Halvpensjon
Double room Premium
(Doppelzimmer)
pro Person / pro Nacht
| Halvpensjon
Double room Comfort
(Doppelzimmer)
pro Person / pro Nacht
| Halvpensjon
Double room Panorama
(Doppelzimmer)
pro Person / pro Nacht
| Halvpensjon
Family Room
(Doppelzimmer)
pro Person / pro Nacht
| Halvpensjon
Double room Superior
(Doppelzimmer)
pro Person / pro Nacht
| Halvpensjon
Double room Premium
(Doppelzimmer)
pro Person / pro Nacht
| Halvpensjon
Double room Comfort
(Doppelzimmer)
pro Person / pro Nacht
| Halvpensjon
Double room Panorama
(Doppelzimmer)
pro Person / pro Nacht
| Halvpensjon
Family Room
(Doppelzimmer)
pro Person / pro Nacht
| Halvpensjon
Double room Superior
(Doppelzimmer)
pro Person / pro Nacht
| Halvpensjon
Double room Premium
(Doppelzimmer)
pro Person / pro Nacht
| Halvpensjon
Double room Comfort
(Doppelzimmer)
pro Person / pro Nacht
| Halvpensjon
Double room Panorama
(Doppelzimmer)
pro Person / pro Nacht
| Halvpensjon
Family Room
(Doppelzimmer)
pro Person / pro Nacht
| Halvpensjon
Double room Superior
(Doppelzimmer)
pro Person / pro Nacht
| Halvpensjon
Double room Premium
(Doppelzimmer)
pro Person / pro Nacht
| Halvpensjon
Double room Comfort
(Doppelzimmer)
pro Person / pro Nacht
| Halvpensjon
Double room Panorama
(Doppelzimmer)
pro Person / pro Nacht
| Halvpensjon
Family Room
(Doppelzimmer)
pro Person / pro Nacht
| Halvpensjon
Double room Superior
(Doppelzimmer)
pro Person / pro Nacht
| Halvpensjon
Double room Premium
(Doppelzimmer)
pro Person / pro Nacht
| Halvpensjon
Double room Comfort
(Doppelzimmer)
pro Person / pro Nacht
| Halvpensjon
Double room Panorama
(Doppelzimmer)
pro Person / pro Nacht
| Halvpensjon
Family Room
(Doppelzimmer)
pro Person / pro Nacht
| Halvpensjon
Double room Superior
(Doppelzimmer)
pro Person / pro Nacht
| Halvpensjon
Double room Premium
(Doppelzimmer)
pro Person / pro Nacht
| Halvpensjon
Double room Comfort
(Doppelzimmer)
pro Person / pro Nacht
| Halvpensjon
Double room Panorama
(Doppelzimmer)
pro Person / pro Nacht
| Halvpensjon
Family Room
(Doppelzimmer)
pro Person / pro Nacht
| Halvpensjon
Double room Superior
(Doppelzimmer)
pro Person / pro Nacht
| Halvpensjon
Double room Premium
(Doppelzimmer)
pro Person / pro Nacht
| Halvpensjon
Double room Comfort
(Doppelzimmer)
pro Person / pro Nacht
| Halvpensjon
Double room Panorama
(Doppelzimmer)
pro Person / pro Nacht
| Halvpensjon
Family Room
(Doppelzimmer)
pro Person / pro Nacht
| Halvpensjon
Double room Superior
(Doppelzimmer)
pro Person / pro Nacht
| Halvpensjon
Double room Premium
(Doppelzimmer)
pro Person / pro Nacht
| Halvpensjon
Double room Comfort
(Doppelzimmer)
pro Person / pro Nacht
| Halvpensjon
Double room Panorama
(Doppelzimmer)
pro Person / pro Nacht
| Halvpensjon
Family Room
(Doppelzimmer)
pro Person / pro Nacht
| Halvpensjon
Double room Superior
(Doppelzimmer)
pro Person / pro Nacht
| Halvpensjon
Double room Premium
(Doppelzimmer)
pro Person / pro Nacht
| Halvpensjon
Double room Comfort
(Doppelzimmer)
pro Person / pro Nacht
| Halvpensjon
Double room Panorama
(Doppelzimmer)
pro Person / pro Nacht
| Halvpensjon
Family Room
(Doppelzimmer)
pro Person / pro Nacht
| Halvpensjon
Double room Superior
(Doppelzimmer)
pro Person / pro Nacht
| Halvpensjon
Double room Premium
(Doppelzimmer)
pro Person / pro Nacht
| Halvpensjon
Double room Comfort
(Doppelzimmer)
pro Person / pro Nacht
| Halvpensjon
Double room Panorama
(Doppelzimmer)
pro Person / pro Nacht
| Halvpensjon
Family Room
(Doppelzimmer)
pro Person / pro Nacht
| Halvpensjon
Double room Superior
(Doppelzimmer)
pro Person / pro Nacht
| Halvpensjon
Double room Premium
(Doppelzimmer)
pro Person / pro Nacht
| Halvpensjon
Double room Comfort
(Doppelzimmer)
pro Person / pro Nacht
| Halvpensjon
Double room Panorama
(Doppelzimmer)
pro Person / pro Nacht
| Halvpensjon
Family Room
(Doppelzimmer)
pro Person / pro Nacht
| Halvpensjon
Double room Superior
(Doppelzimmer)
pro Person / pro Nacht
| Halvpensjon
Double room Premium
(Doppelzimmer)
pro Person / pro Nacht
| Halvpensjon
Double room Comfort
(Doppelzimmer)
pro Person / pro Nacht
| Halvpensjon
Double room Panorama
(Doppelzimmer)
pro Person / pro Nacht
| Halvpensjon
Family Room
(Doppelzimmer)
pro Person / pro Nacht
| Halvpensjon
Double room Superior
(Doppelzimmer)
pro Person / pro Nacht
| Halvpensjon
Double room Premium
(Doppelzimmer)
pro Person / pro Nacht
| Halvpensjon
Double room Comfort
(Doppelzimmer)
pro Person / pro Nacht
| Halvpensjon
Double room Panorama
(Doppelzimmer)
pro Person / pro Nacht
| Halvpensjon
Family Room
(Doppelzimmer)
pro Person / pro Nacht
| Halvpensjon
Double room Superior
(Doppelzimmer)
pro Person / pro Nacht
| Halvpensjon
Double room Premium
(Doppelzimmer)
pro Person / pro Nacht
| Halvpensjon
Double room Comfort
(Doppelzimmer)
pro Person / pro Nacht
| Halvpensjon
Double room Panorama
(Doppelzimmer)
pro Person / pro Nacht
| Halvpensjon
Family Room
(Doppelzimmer)
pro Person / pro Nacht
| Halvpensjon
Double room Superior
(Doppelzimmer)
pro Person / pro Nacht
| Halvpensjon
Double room Premium
(Doppelzimmer)
pro Person / pro Nacht
| Halvpensjon
Double room Comfort
(Doppelzimmer)
pro Person / pro Nacht
| Halvpensjon
Double room Panorama
(Doppelzimmer)
pro Person / pro Nacht
| Halvpensjon
Family Room
(Doppelzimmer)
pro Person / pro Nacht
| Halvpensjon
Double room Superior
(Doppelzimmer)
pro Person / pro Nacht
| Halvpensjon
Double room Premium
(Doppelzimmer)
pro Person / pro Nacht
| Halvpensjon
Double room Comfort
(Doppelzimmer)
pro Person / pro Nacht
| Halvpensjon
Double room Panorama
(Doppelzimmer)
pro Person / pro Nacht
| Halvpensjon
Family Room
(Doppelzimmer)
pro Person / pro Nacht
| Halvpensjon
Double room Superior
(Doppelzimmer)
pro Person / pro Nacht
| Halvpensjon
Double room Premium
(Doppelzimmer)
pro Person / pro Nacht
| Halvpensjon
Double room Comfort
(Doppelzimmer)
pro Person / pro Nacht
| Halvpensjon
Double room Panorama
(Doppelzimmer)
pro Person / pro Nacht
| Halvpensjon
Family Room
(Doppelzimmer)
pro Person / pro Nacht
| Halvpensjon
Double room Superior
(Doppelzimmer)
pro Person / pro Nacht
| Halvpensjon
Double room Premium
(Doppelzimmer)
pro Person / pro Nacht
| Halvpensjon
Double room Comfort
(Doppelzimmer)
pro Person / pro Nacht
| Halvpensjon
Double room Panorama
(Doppelzimmer)
pro Person / pro Nacht
| Halvpensjon
Family Room
(Doppelzimmer)
pro Person / pro Nacht
| Halvpensjon
Double room Superior
(Doppelzimmer)
pro Person / pro Nacht
| Halvpensjon
Double room Premium
(Doppelzimmer)
pro Person / pro Nacht
| Halvpensjon
Double room Comfort
(Doppelzimmer)
pro Person / pro Nacht
| Halvpensjon
Double room Panorama
(Doppelzimmer)
pro Person / pro Nacht
| Halvpensjon
Family Room
(Doppelzimmer)
pro Person / pro Nacht
| Halvpensjon
Double room Superior
(Doppelzimmer)
pro Person / pro Nacht
| Halvpensjon
Preis auf Anfrage außerhalb der Saisonzeiten
Betalingsmåter
Cash, bancomat, credit card (no American express/Diners)
Kommentarer:
Für weitere Informationen bitte auf unserer hompepage: www.miramontihotel.it
Rom/Leiligheter
Betalingsmåter

Cash, bancomat, credit card (no American express/Diners)